Dental Implants in Thunder Bay
Have you lost one or multiple teeth? Whatever the reason for such gaps in your smile, it's a smart idea to talk to a dentist near you about getting dental implants.
An excellent means of restorative dentistry, this process involves installing titanium roots into your jawbone, which, after several months of healing, provides a sturdy foundation for your smile.
To learn more about this treatment option, please contact our dentist in Thunder Bay; they are here to assist you in any way that you need!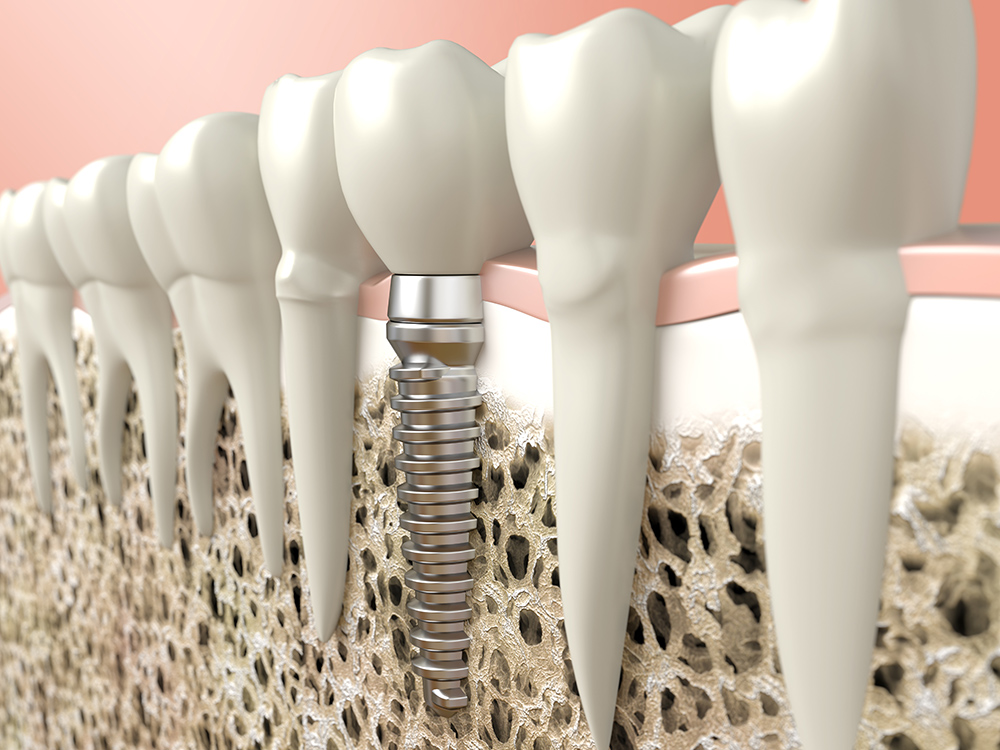 What is a Dental Implant?
One implant is composed of three, smaller pieces:
Screw (artificial root)
Abutment
Prosthetic
Both the screw and the abutment are fabricated from titanium, a material that's biocompatible. What this means is that it won't irritate your gums and bone tissue. Surgery performed by a dentist in Thunder Bay is needed to install these components.
The prosthetic is typically a dental crown that covers the implant. It is the only visible part of the implant. Porcelain or ceramic is used to make the crown so that it blends in with the rest of your smile.
Types of Implants Available
When you receive dental implants in Thunder Bay, there are a few different options available depending on your needs. These are:
Traditional implants with a crown
Implant-supported bridges
Implant-supported dentures
All-on-4 dental implants
Unlike the other solutions, All-on-4 dental implants installed by a dentist near you can help repair smiles that are missing an entire row of teeth, either on the top or bottom of their mouth. As the name suggests, this method involves installing four implants at strategic locations; then an artificial arch is placed on top.
Benefits of Dental Implants
There are many advantages to acquiring dental implants such as:
Permanence
Stop bone loss
Prevent facial sagging
Helps you look younger
Won't shift or fall out of place
Restores your ability to eat
Boosts your self-confidence
Helps you talk clearly
If you require additional information about this, please talk to a dentist in Thunder Bay; they will guide you through the process from start to finish so you understand what's involved and feel prepared.
Do remember, that this treatment is not suitable for everyone. You'll need to book an appointment with a dentist near you so they can examine your smile. Through x-rays and a physical assessment, they will be able to determine if this process is right for you. If it isn't, they will help you find a good alternative.
Looking to Get Started?
At ABA Dental, we offer dental implants in Thunder Bay to all our patients. Our staff is excited to work with you and help you fall in love with your smile all over again.
To arrange a consultation at a time that works for you, you can call our local dental practice at (807) 626-8001 or send us an email via the form on our website. See you soon!