Orthodontics in Thunder Bay
We all want, and deserve to have, a beautiful smile, one that we are happy to show off every day to colleagues, friends, and family. With the help of orthodontic treatment from a dentist near you, this can be made a reality.
Several methods can be implemented to refine smiles, including metal braces or clear aligners. To gather more information about this, please give our dentist in Thunder Bay a call.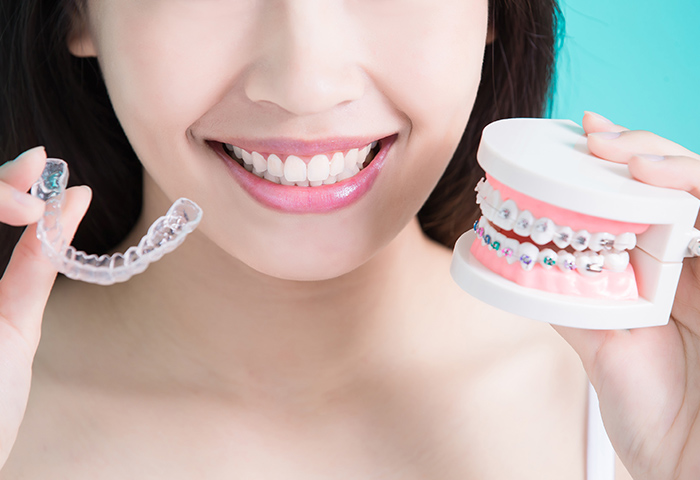 What is Orthodontics?
Orthodontics is a dental specialization that focuses on straightening teeth, adjusting bite patterns, and addressing issues with the jawbone. These experts must complete additional years of training after graduating from dental school. Patients are typically referred to their practices if they're ready to get healthier, aesthetic smiles but need more advanced means to do so.
Listed below are just a few of the many advantages that orthodontics in Thunder Bay can provide:
Contributes to a healthy facial structure
Improves the function of teeth
Prevents tooth fragmentation
Remedies unnatural bite patterns
Eliminates stress from the jaw
Less dental emergencies
Less chance of gum disease
Better self-confidence
It's never too late to get orthodontic treatment from a dentist near you. Reach out to our local clinic to speak with a member of our staff. They'll assist you in setting up an appointment to come in and learn more about this method and whether you're an ideal candidate for it.
Types of Treatment
Your dentist in Thunder Bay will discuss the options available to you, depending on your preferences, budget, and, most importantly, the current state of your oral health. At ABA Dental, here is what we offer:
Traditional Braces
Made from metal, conventional braces are one of the most well-known forms of orthodontic care. Small brackets and arch wires are installed over your teeth; sometimes tiny elastic bands are used as well. The device exerts pressure on your smile, encouraging your teeth to shift into a better position over a lengthier period.
Invisalign
Patients are provided multiple sets of aligners, or trays, fabricated from clear dental plastic. They are discreet and can be taken out when you eat and brush your teeth. Your dentist will take impressions of your smile to ensure that they fit you properly and don't feel loose. The trays also exert a continual, yet gentler pressure on your teeth which causes them to move. Learn more about Invisalign.
Phase One/Early Orthodontics
This treatment may be recommended to help patients improve their smiles before more complex and, in some cases, more invasive methods are needed.
If you have questions or concerns about any of this, contact a dentist near you today.
What is the Process Like?
Everyone's orthodontic journey will differ. But with that said, the general steps regarding the acquisition of traditional braces or Invisalign are similar and share the same purpose.
Once you've been given your appliance, you'll need to give yourself some time to adjust to having it in your mouth. For wearers of metal braces, eat soft foods for the first few days and take Advil or Tylenol to manage any discomfort. For Invisalign users, you'll most likely have a shorter adjustment period, but you need to wear your trays for a minimum of 22 hours a day to get results.
Every 4-6 weeks, you will return to see your dentist in Thunder Bay so they can assess your smile and see how you're fairing. They will either tighten your arch wires and brackets or give you a new set of aligners – both measures ensure that the changes happening to your smile don't cease.
On average, orthodontic treatment lasts from 12 months to 2 years. Invisalign treatment tends to be on the shorter side, but that's because it's more effective for patients who do need complex care.
Meet with a Dentist Near You
Looking to receive orthodontics in Thunder Bay? No problem! At ABA Dental, we are here to help you achieve all your oral health goals. Call us or visit our physical office, located at 995 Memorial Avenue to get going!